History 1999 - 2022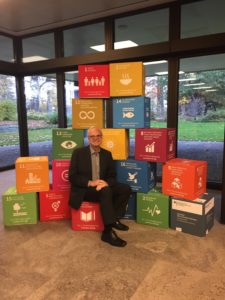 The UNESCO Chair in Reorienting Education towards Sustainability at York University was established in 1999. It was the first UNESCO Chair to be established related to education for sustainable development (ESD). The initial task of the Chair was to create guidelines for reorienting teacher education to address sustainability.
To accomplish this task, the Chairholder created the International Network of Teacher Education Institutions (INTEI) to share their expertise and experience and inform the writing of the guidelines. The INTEI began with 35 institutions in 34 countries and has grown to include hundreds of members in more than 70 countries. Today, the INTEI serves as an international knowledge and skills base of direct experience and practice for the UNESCO Chair and this insight is shared with the institutions affiliated with it.
As ESD evolved and changed, the goals, projects, and activities of this UNESCO Chair also evolved. For example, the Chairholder has contributed expertise in both creating and supporting the Global Network of Regional Centres of Expertise on ESD (RCEs). In addition, the Chair is involved with UNESCO UNEVOC in incorporating ESD into Technical and Vocational Education and Training (TVET) as well as exploring and experimenting with ESD and online teacher education.

The latest Chair focus is engaging with the Sustainable Development Goals, in particular SDG 4. A major initiative entails incorporating ESD in reorienting education and training systems to improve the lives of Indigenous youth all around the globe. The #IndigenousESD network of researchers – the first research network in serving SDG target 4.5 and 4.7 – and spanning 40 countries was launched in 2017 with its first global research report on perceptions of quality education published in 2020 and a second on focusing on transferable good practices in 2021.