Our partner institutions in 70+ countries engage with promoting sustainability as a purpose of education
For our research, conferences and other activities, we partner with education experts in many countries to ensure that sustainability perspectives from stakeholders in different regions of the world are included and a continuous dialogue is pursued. These longstanding and trusted relationships are at the core of our efforts towards achieving the SDGs and the Global 2030 Education Agenda.
Please click on the map to learn more about our partners.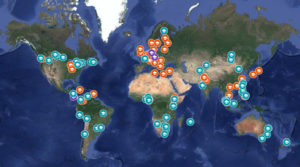 It´s work in progress: We invite our partners to share contact information, video and photo links for this map. If you have any questions or suggestions, please reach out to unescochair(at)edu.yorku.ca.