Embedded in York's Mission is the statement "York University is open to the world: we explore global concerns". The UNESCO Chair in Reorienting Education towards Sustainability has this concept embedded in all undertakings in the field of education. The Chair is one of the most established Chairs in the UNITWIN/UNESCO Chairs programme.
Focusing on supporting the implementation of the United Nations Sustainable Development Goals (SDGs), especially SDG 4 on Quality Education, in various ways and worldwide, we are involved in many activities. Education for Sustainable Development (ESD) is at the core of our work. The Chairholder, the core team, as well as associates support systemic education reformation in the context of ESD ranging from national policy to school and community practice.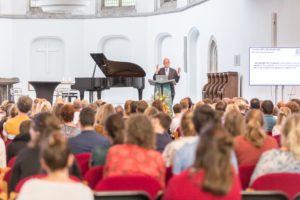 One of our specialties in working together with our international networks is carrying out action research at the grassroots level, gaining research-based knowledge to further ESD. Our affiliated teacher education institutions and other research institutions are academically recognized and well connected in their respective communities, thereby using the opportunity to merge theory with practice and learning from its outcomes.
The expertise of the UNESCO Chair team includes the ability to connect aspects from education science in new and innovative ways and to create thought-provoking papers to bring the 'sustainability as a purpose of education' discussion forward. Not only do we focus on the scientific findings as such, but we also formulate recommendations from the results of our research activities for educators, policy makers and other stakeholders. We deliver keynotes in international (education) conferences and other (virtual) events upon request to deliver perspectives on reorienting education and training systems towards a sustainable future. We regularly publish as well as contribute to the publications of Chair colleagues in various fields related to ESD and education.